Tournaments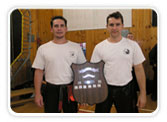 Competition is not compulsory, but is popular. RGMA convenes Regional and National Events. There are anything up to 100 categories available for entry. A high level of safety, age separation, and contact control prevail. Master Instructors apply strict adherence to Rules and Technique Proficiency in decision making. Tournaments are usually open to families.
The RGMA Nationals are to be held Labour Weekend at the
Jade Court, Porirua.