Guiding Philosophy
Our aim and objectives are to teach highest quality Chinese Martial Arts. This is accomplished by our 100% focus on actual training and practise of the martial arts that we teach. We do not get bogged down or controlled by the politics that often see leading Instructors sit around in the back room arguing policy.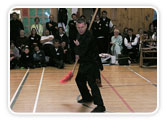 As a pioneer of the Martial Arts Robert Gemmell did his share of politics and often was appointed key positions such as President or Secretary to some of New Zealand's largest Martial Arts organisations. He got off the political treadmill when he discovered that many choose that kind of involvement over actual practise of the arts themselves.
The RGMA School has been successful in motivating large numbers of students to enjoy through practise the Chuan Fa system. This motivation is self driven by students who generally frequent anything up to 6 classes per week. The important thing to know here is that participants in the Robert Gemmell Programme attend as many classes as is available and this involvement often extends for many years. Striking the correct balance and the correct blend of both soft and hard training has led to this success. We are proud to report that we have many Master Instructors who have stayed with the School for in excess of thirty years.
Having a Black Belt base in the hundreds at any one time ensures that the attributes attained by these Instructors is passed down through the ranks. The philosophy we hold to is based upon traditional values such as respect, discipline and self improvement. In the early days women made up only 3% of our membership. We are pleased to say that now days that mix is about 50 50 dependant on the class. Robert Gemmell informs his students that he is like them a student of the Martial Arts. "We share the same path of learning and research". Setting an example he visits China at least once a year in the search of new knowledge.
Upon his return he conducts seminars and workshops in an effort to pass that knowledge on to other enthusiastic students. Anyone can learn regardles of age or physical ability. People come from all walks of life. Practise is enjoyable and conducted in a friendly safe environment