History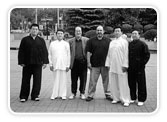 Fifty years of on going development in New Zealand provides us with a strong base to teach and pass on the Martial Arts to others.
Our Headquarters property in Porirua has been established for more than thirty years. We have taught continuously in the area for over forty years.
Tournament record is unbeaten over four decades, and as pioneers in the field of Martial Arts we entered every possible Tournament open to us throughout the 60 's to the 90's. Dominating both Internal and External styles, we now focus on the development of our own Competitions.
Equally we are proud of the estimated twenty thousand students who learned Tai Chi for health, well being and stress management. Combined graduates ranging from first level Black to high ranking Master levels have emerged from our School. Many now run their own successful Schools using the RGMA system.
We are recognised internationally with affiliates in Japan,USA,U.K,Taiwan, Okinawa and China, all places in which Robert Gemmell has trained. New Zealand's short Martial Arts history includes a total of four Martial Arts publications. Two of these were published by Robert Gemmell : "NZ Karate and Martial Arts Magazine" and "Insights Into Martial Arts" Magazine which was supported internationally with contributors in more than a dozen countries.
Several of our Senior Masters have been inducted into the "World Karate," "Australasian" and "New Zealand Martial Arts Halls of Fame," and School Founder Robert Gemmell has been appointed the title of "Soke" (Governor of Martial Arts) on the permanent Board of Directors to several organisations in New Zealand and other countries.
Robert Gemmell wrote the founding document for the Australasian and New Zealand Martial Arts Hall of Fame. This document unanimously adopted by the Board of Directors served to explain and bond separate organisations within the Martial Arts Community where division had existed.
Working closely with the New Zealand Government Agencies, Robert Gemmell is a Co Founder of other key Governing Martial Arts bodies in NZ. In particular Robert Gemmell established an Instructors ratification system adopted by the then "Martial Arts Council".
Whereas many Schools teach one Art Form, Robert Gemmell took his guide from China where he trained frequently over a thirty year period. Here the teaching of Martial Arts establishes two main divisions - "External" Wei Gung and "Internal" Nei Gung, This is not the simple explanation of "Hard" or "Soft" but whether or not the energy or "Chi" is sourced internally or externally. The outcome of this approach establishes a strong Kempo and Tai Chi wing of his School, with all three Internal Arts taught within his own Chinese lineage. Robert Gemmell's most recent trip to Mainland China was in October/November 2009.